"Savvy" - Chef Allen's April 2011 Newsletter
Burger & Beer Dinner at Chef Allen's!
Wednesday, April 13th
The Pali Wine Co. Dinner was a huge hit! We thank all of you for joining us and we are really excited about this one too! Wednesday, April 13th come and join us for a fun-filled evening and a five-course, beer-paired mouth watering menu that will challenge your idea of a burger! There is limited space available for this event so please reserve your space now!
Poultry Slider Trio
Duck Confit, Ah-So BBQ Chicken, Turkey & Cranberry
Orval Trappist Ale
***** ***** *****
Vegetarian "Burger"
Grilled Abalone Mushroom
Parmesan "Bun", Oven Dried Tomato, Balsamic Aioli
Inlet Monk In The Trunk Organic Amber Ale
***** ***** *****
Chicago "Deep Dish" Burger
House-Made Italian Sausage, Roasted Tomato Sauce, Brioche Bun
Native Lager
***** ***** *****
"Classic Burger"
Creekstone Farms Ground Brisket, Braised Pork Belly
Watercress, Guava-Onion Ketchup
Terrapin Hop Karma Indian Brown Ale
***** ***** *****
Sweet "Burger"
Sugar Cookies, Chocolate-Hazelnut Ice Cream
Cherry Reduction, Pistachio Crisp
Left Hand Milk Stout
$59 per person
305-935-2900

(Space is limited to 24 guests so please reply as soon as possible)
Chefs Help Japan Website
A massive 8.9/9.0 magnitude earthquake hit the Pacific Ocean nearby Northeastern Japan at around 2:46pm on March 11 (JST) causing damage with blackouts, fire and tsunami.
We are using our network of chefs to bring immediate help of food and water to the children of the Northeastern Japan. The big idea is to gather a network of chefs across the world to participate in our Chefs Help Japan fundraiser. Each chef selected will be an influential leader in the culinary world. Together our voices and actions as culinary messengers can facilitate our cooperative goal quickly and directly support the relief efforts.
Chef Allen's Mothers Day Brunch & Dinner
Sunday, May 8th
Brunch 11:30am - 2:30pm
Dinner 6:00pm - 10:00pm
Be sure to celebrate your Mom's special day with a unique experience at Chef Allen's. We want to cook for your family. We are offering this special menu along with an a la carte menu, so there are many choices. We are also opening early for dinner on Mother's Day, if you are inclined to dine in the evening. A special price fix menu as well as a al carte will be available.
Starters
Rock Shrimp "Mac & Cheese"
Shiitake Mushrooms, Tomatoes, Parmesan
16
Blue Crab Cakes
Celery Root Remoulade
15
Hearts of Romaine Salad
Caesar Dressing, Garlic Croutons, Anchovy
10
"The Wedge"
Applewood Smoked Bacon, Cherry Tomatoes, Maytag Blue
9
House Cured Salmon
Warm Focaccia, Pickled Shallots, Arugula, Preserved Orange Vinaigrette
14
Entrees
"Classic Burger"
House Made Bun, Artisan Pickles, Raclette Cheese, Applewood Bacon
Hand Cut Fries or Red Onion Rings
14
Pistachio Crusted Mahi Mahi
Rock Shrimp, Mango, Coconut, Leek Fricassee
26
Surf and Turf
Wood Grilled NY Strip and Head-On Shrimp
Roasted Beets, Caramelized Onions, Fingerling Potatoes
34
Black Angus Filet Mignon
Roasted Sunchokes, Onions, Asparagus, Red Wine Reduction
39
Pan Seared Kingklip
Spring Vegetables, Basil-Tomato Butter
27
Multi-Grain French Toast
Warm Maple Syrup, Whipped Cream, Fresh Fruit
12
Three Egg Omelet
Choice of: Bacon, Ham, Peppers, Red Onion, Tomatoes, Spinach
Raclette Cheese, Cheddar Cheese, Cream Cheese
14
Open Face Crab Cake "Sandwich"
Brioche, Havarti Cheese, Over-Easy Egg, Tomato, Watercress
18
Sides
Applewood Smoked Bacon
5

Hand Cut French Fries
6

Herb Roasted Fingerling Potatoes
8

Grilled Breakfast Sausages
6

Truffled French Fries
10

Grilled Asparagus, Maytag Blue
10
> Click Here To Make a Reservation
Chef Allen's Passover Seder
Monday, April 18th and Tuesday, April 19th Beginning at 6pm
Please join us for traditional Seder dinner on Monday, April 18 from 5pm to 10pm. Please note: we will only be serving traditional Seder dinner on the 18th and on the 19th we will offer the Seder dinner in addition to our a la carte menu.
The Traditional SEDER plate
Served with A Tasting of Charoseths

Ashkenazi: Apple, Ginger, and Concord Grape Wine
Caribbean Sephardic: Coconut, Almonds and Dried Fruit
Yemenite: Dates, Apricot and Sesame
Venetian: Fig, Apricot and Sour Cherries

***************

Pan Roasted Mahi-Mahi Cake
Moroccan Carrot & Almond Relish, Horseradish-Beet Cream

***************

Baked Matzo Lasagna
Organic Spinach, Purple Eggplant, Tomato Salsa
or
Chicken Matzo Ball Soup
Parsnips, Heirloom Carrots, Green Onion

***************

Za'atar Grilled Lamb Chops
Zucchini and Eggplant Chutney, Grilled Asparagus, Fingerling Potatoes
or
Pan Roasted Kosher Chicken Breast
Farro, Haricot Verts, Roasted Red Pepper Puree
or
Pan Roasted Halibut
Root Vegetable Cholent, Haricot Verts, Tahini Pan Sauce

***************

Lemon Poppyseed Cake
Lemon Curd and Seasonal Berries
or
Chocolate Pecan Macaroon Brownie
Chocolate Cinnamon Sorbet

***************


Adults: $75.00 per person (plus tax & gratuity)
Children: $50.00 per person (plus tax & gratuity)

> Click Here To Make a Reservation for Monday April 18th
> Click Here To Make a Reservation for Tuesday April 19th
The Aventura Arts and Cultural Center Deal at Chef Allen's
The Aventura Arts and Cultural Center is in full swing and considering we are conveniently located just around the corner, we thought we would invite you in to dinner either before your evening show or after your matinee for a special deal: Bring in your ticket stub either before or after the show and receive a bottle of wine of your choice at half price!
Wine Down Wednesday
Mark you calendar to be here on Wednesdays to explore our wine list. Every Wednesday, every bottle is 1/2 off!
On the last Wednesday of the month, April 27th, we will have a wine tasting along with complimentary finger foods from 6:00 – 7:00, each evening we offer a delicious wine paired menu.
Recipe of the Month
Fresh Zucchini Blossoms
Golden Chanterelles, White Bean Hummus, Harrisa, Mint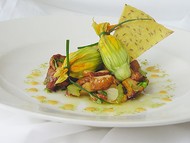 For the Zucchini Blossoms:
12 Very Large Zucchini Blossoms
1 cup white bean hummus
12 fresh chives
Fill each of the blossoms, using a pastry bag, with enough hummus to fill the bulb well. Blanch the chives, and tie the head of the blossom closed. This will be served at room temperature.
For the Hummus:
1 1/2 cups dried White Beans, cooked until soft
2 cloves garlic, chopped
1/4 cup tahini
1/4 teaspoon cayenne pepper
1/2 teaspoon ground cumin
1/2 teaspoon dried oregano
1/2 lemon, juiced
1/2 cup to 3/4 cup olive oil
Salt and freshly ground pepper
3 tablespoons chopped parsley leaves
1 tablespoon minced chives
Put the white beans, garlic, and tahini in the work bowl a food processor. Pulse until it becomes paste-like, adding a few tablespoons of water, if needed. Add the cayenne, cumin, oregano, and lemon juice, and pulse again until combined. With the motor running, slowly add the olive oil until emulsified. Add the parsley and chives - pulse until just combined. Season with salt and pepper, to taste. Transfer to a small bowl.
For the Chanterelles:
1/4 cup extra-virgin olive oil
3 tablespoons fresh lemon juice
1 sprig fresh thyme
1/4 teaspoon fennel seeds
1/2 teaspoon crushed coriander seeds
1 garlic clove, thinly sliced
1/4 cup minced celery
2 teaspoons black peppercorns
1 bay leaf
1/4 cup water
1 pound Chanterelles
¼ pound micro watercress
Combine all ingredients except mushrooms, lemon and parsley in a saucepan and bring to a boil, cover, and simmer for 5 minutes. Add the mushrooms to mixture in saucepan and simmer another 5 minutes. With a slotted spoon remove mushrooms to a bowl. Boil the cooking liquid until reduced and thickened. Pour sauce over mushrooms and chill. For service, sprinkle with micro watercress and additional extra virgin olive oil.
For the Harissa:
1 teaspoon cumin seed
1/2 teaspoon coriander seeds
1/2 teaspoon caraway seeds
2 hot red dried arbol chiles, stemmed but not seeded (about 2 inches in length)
2 garlic cloves
1/2 teaspoon coarse salt
1 medium red bell pepper, roasted, coarsely chopped
1 tablespoon olive oil
To make the harissa: In a mortar with a pestle, an electric spice grinder, or a cleaned coffee grinder, grind seeds fine. If using mortar and pestle, add chiles, garlic, and salt and pound, to taste. If using a spice or coffee grinder, transfer seeds to a small food processor and add chiles, garlic, and salt. Grind mixture to a paste. Add pepper and oil and pound or puree to a coarse paste.
Mint Oil:
1/2 cup packed fresh mint leaves
3/4 cup extra-virgin olive oil
Bring a saucepan of water to a boil. Prepare and ice bath. Plunge the mint leaves into the boiling water for 30 seconds, then remove to the ice bath. Squeeze out the excess liquid and puree in a blender for 1 minute with the olive oil. Makes 1 cup.
To Plate:
Spoon chanterelles in the center of the plate
Place stuffed zucchini blossom on top of chanterelles
Drizzle with harrisa and mint oil separately
Garnish with cumin crisp