"Savvy" - Chef Allen's March 2011 Newsletter
Chef Allen's Passover Seder
Monday, April 18th and Tuesday, April 19th Beginning at 6pm
Please join us for traditional Seder dinner on Monday, April 18 from 5pm to 10pm. Please note: we will only be serving traditional Seder dinner on the 18th and on the 19th we will offer the Seder dinner in addition to our a la carte menu.
The Traditional SEDER plate
Served with A Tasting of Charoseths

The Traditional SEDER plate
Served with A Tasting of Charoseths

Ashkenazi: Apple, Ginger, and Concord Grape Wine
Caribbean Sephardic: Coconut, Almonds and Dried Fruit
Yemenite: Dates, Apricot and Sesame
Venetian: Fig, Apricot and Sour Cherries

***************

Pan Roasted Mahi-Mahi Cake
Moroccan Carrot & Almond Relish, Horseradish-Beet Cream

***************

Baked Matzo Lasagna
Organic Spinach, Purple Eggplant, Tomato Salsa
or
Chicken Matzo Ball Soup
Parsnips, Heirloom Carrots, Green Onion

***************

Za'atar Grilled Lamb Chops
Zucchini and Eggplant Chutney, Grilled Asparagus, Fingerling Potatoes
or
Pan Roasted Kosher Chicken Breast
Farro, Haricot Verts, Roasted Red Pepper Puree
or
Pan Roasted Halibut
Root Vegetable Cholent, Haricot Verts, Tahini Pan Sauce

***************

Lemon Poppyseed Cake
Lemon Curd and Seasonal Berries
or
Chocolate Pecan Macaroon Brownie
Chocolate Cinnamon Sorbet

***************

$75.00 Per Person / $50.00 Per Child


Adults: $75.00 per person (plus tax & gratuity)
Children: $50.00 per person (plus tax & gratuity)

> Click Here To Make a Reservation for Monday April 18th
> Click Here To Make a Reservation for Tuesday April 19th
Burger and Beer Dinner at Chef Allen's!
Wednesday, April 13th
The Pali Wine Co. Dinner was a huge hit! We thank all of you for joining us and we are really excited about this one too! Wednesday, April 13th come and join us for a fun-filled evening and a five-courese, beer-paired mouth watering menu that will challenge your idea of a burger! There is limited space available for this event so please reserve your space now!
Poultry Slider Trio
Duck Confit, Ah-So BBQ Chicken, Turkey & Cranberry
Orval Trappist Ale
***** ***** *****
Vegetarian "Burger"
Grilled Abalone Mushroom
Parmesan "Bun", Oven Dried Tomato, Balsamic Aioli
Inlet-Monk in the Trunk Organic Amber Ale
***** ***** *****
Chicago "Deep Dish" Burger
House-Made Italian Sausage, Roasted Tomato Sauce, Brioche Bun
Native Lager
***** ***** *****
"Classic Burger"
Creekstone Farms Ground Brisket, Braised Pork Belly
Watercress, Guava-Onion Ketchup
Terrapin-Hop Karma Indian Brown Ale
***** ***** *****
Sweet "Burger"
Sugar Cookies, Chocolate-Hazelnut Ice Cream
Cherry Reduction, Pistachio Crisp
Left Hand-Milk Stout
$69 per person (Space is limited to 24 guests so please reply as soon as possible) 305-935-2900.
Wine Dinner to come... Cabernet and Carnivores!
I am interested to see how many of you out there will be interested in an evening strictly dedicated to great Cabernets and MEAT! Please email me if you are interested and based on the number of emails I will put together an unforgettable evening in the near future! Sounds like a great guys night out too! Email me at: Kimberly.s@chefallens.com
So the ponies are running at Gulf Stream?
Bring in your ticket stub from that day's race and receive a free soufflé with the purchase of dinner for two!
The Aventura Arts and Cultural Center Deal at Chef Allen's
The Aventura Arts and Cultural Center is in full swing and considering we are conveniently located just around the corner, we thought we would invite you in to dinner either before your evening show or after your matinee for a special deal: Bring in your ticket stub either before or after the show and receive a bottle of wine of your choice at half price!
Burger App by Chef Allen
Chef Allen's Burger Bar, Ft Lauderdale International Airport, FL
Easy access to menu's, events and more.
Features:
Complete menu listing
Restaurant hours
Location - via maps
Tell a friend, via Twitter, Facebook and email
In-App reservations
Offers/Specials/events
Chef Allen has been flipping burgers for over four decades. He knows how to cook a burger meaty, juicy & savory. During his formative days, Allen grilled thousands of burgers for many summers at Rockaway Beach in NYC. His Straightforward joy of cooking stirred him to become a chef. Now this James Beard winning chef, who changed and inspired the culinary landscape in South Florida forever with his landmark restaurant Chef Allen's, returns to his roots of flipping burgers. Simple, Honest, and Authentic - made to order burgers.
Quality matters and great burgers begin with great ingredients and minimal preparation. While recognizing the need for the familiar and the desire for unexpected choices, Susser has created the Burger Bar by Chef Allen for you.
Wine Down Wednesday
Mark you calendar to be here on Wednesdays to explore our wine list. Every Wednesday, every bottle is 1/2 off!
On the last Wednesday of the month, February 24th, we will have a wine tasting along with complimentary finger foods from 6:00 – 7:00, each evening we offer a delicious wine paired menu.
Call 305-935-2900 or click here to make a reservation.
Recipe of the Month
Jerk Calamari, Mango and Watercress Salad

Ingredients to Serve- 4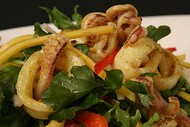 2 Cups Calamari rings
1 Recipe Fresh Jerk marinate
4 Tablespoons Olive oil
1 Tablespoon Dark rum
1 Cup Julienne mango
1 Cup Julienne jicama
1 Cup Julienne sweet red peppers
2 Cups Cleaned Watercress leaves
3 Tablespoons Freshly squeezed lemon juice
2 Tablespoons Yogurt
¼ Teaspoon Crushed red pepper flakes
10 Large Fresh mint leaves
To prepare the Calamari: In a small stainless steel bowl mix the calamari with jerk marinate. Warm a sauté pan with half of the olive oil over medium high heat. Add the calamari and sauté for 2-3 minutes. Slowly add the rum and simmer for another minute. Remove the calamari from the pan, keeping warm and reserve the cooking juices.
To prepare the Salad: In a large bowl, toss together the mango, jicama, peppers and watercress. In another small bowl, whisk together the pan juices with the remaining salt, olive oil, lemon juice, yogurt and crushed red pepper flakes. Pour this dressing over the salad and toss.
To Serve: In a large white oval platter, arrange the salad and spoon the warm jerked calamari on top. Garnish with freshly torn mint leaves.