"Savvy" - Chef Allen's February 2011 Newsletter
Valentine's Day—We are doing it for 3 days!
Join us for dinner on Saturday, the 12th, and when making your reservation mention this newsletter and receive two complimentary glasses of Sparkling Rosé!
Also on Saturday evening, from 5:30-6:30 meet the artist, Michele Pellus! Mr. Pellus' work is displayed throughout the restaurant and he will walk you through each piece and discuss techniques and inspirations. There will be wine sampling and passed hors d'oeurves, and as an added bonus, we are delighted to announce that Paul Chevalier, Wine Director for Shaw-Ross Importers will be here to discuss the wines as well.
Sunday, the 13th, we are having a Couple's Truffle Making Session with our Pastry Chef, Anndy Senatus Jean, from 5:30 to 6:30. You and your sweetie will learn how to make these decadent sweets together and take them home to savor later! Make a reservation for dinner after the session and it's free, without a reservation it's $30 per couple. This is an exclusive event and only the first ten couples to sign up can participate so reserve your spot now!
Sunday and Monday all the ladies will be receiving a box of homemade truffles.
Monday, February 14, Valentine's Day join us for a delectable five-course dinner from 5pm to 11pm.
Valentine's Day at Chef Allen's
Caviar Kiss
Sustainably Raised American Bowfin, Dill Cream, Blini
***** ***** *****
Blue Crab Cake
Mango Chutney, Vanilla Beurre Blanc
Or
Rock Shrimp Mac and Cheese
Trophiette Pasta, Tarragon, Sherry, Manchego
****** ****** ******
Hearts of Romaine and Hearts of Palm
Fresh Croutons, Chef's Caesar Dressing, Parmesan
Or
Boston Lettuce Wedge
Applewood Smoked Bacon, Heirloom Tomatoes
Maytag Blue Cheese Dressing
****** ****** ******
Pistachio Crusted Mahi-Mahi
Rock Shrimp Fricassee, Leeks, Mango and Coconut Rum
Or
Wood Grilled Local Swordfish
Smoked Tomatoes, Spinach, Ciabatta Toast, Chimichurri
Or
Creekstone Farms Filet Mignon
Beet Spaetzle, Garlic Broccolini, Red Wine Sauce
Or
Maple Leaf Farms Duck Breast
Edamame Succotash, Brussels Sprouts, Roasted Mushrooms
****** ****** ******
Chocolate Desire
Warm Flourless Chocolate Cake, Vanilla Chantilly Cream
White Chocolate Zabaglione
Florida Strawberry Trio
Chocolate Dipped Strawberry, House Made Ice Cream, Strawberry Shortcake
$75.00 per guest plus tax and 18% Gratuity
Call 305-935-2900 or click here to make a reservation.
Palate to Palette
Wednesday, February 23, 2011
Join us for an evening of art and wine and food! Enjoy a five-course, wine-paired dinner that will inspire your palate while our in-house artist describes what inspires him when he focus' on his palette. Not only will we have the artist on hand, but the winemaker as well! This is an exclusive event and only 24 seats are available so please book now. (Wine Maker to be announced.)
$75 per person plus tax and gratuity.
What better way to start off the weekend of South Beach Food and Wine than with an evening of art and wine and mouth-watering food!
Call 305-935-2900 or click here to make a reservation.
Chef Allen's Restaurant App
Aventura, FL
Easy access to menu's, events and more.
Features:
Complete menu listing
Restaurant hours
Location - via maps
Tell a friend, via Twitter, Facebook and email
In-App reservations
Offers/Specials/events
Chef Allen's seafood grill is a Miami landmark. Chef Allen Susser has created a uniquely American seafood restaurant. This James Beard award-winning chef is recognized for his innovative seafood cooking, and The New York Times called Allen, "the Ponce de Leon of Florida cooking." The newly designed dining room and approachable menu and wine list are some of the reasons you will love dining here.
When you have the best local and seasonal ingredients simplicity is best. Fresh, pristine, local and sustainable seafood and fish are the principle resources that are featured on the menu each night. Local fishermen make daily deliveries of yellowtail snapper, grouper, pompano, wahoo, cobia, lobster, conch, and wild Florida shrimp. The restaurant's authentic wood burning Lyonnaise grill is the secret behind the delectable grill menu that includes fish, great steaks and chops.
Dining Style: Casual Elegant
Cuisine: Seafood, American, Steak
Burger App by Chef Allen
Chef Allen's Burger Bar, Ft Lauderdale International Airport, FL
Easy access to menu's, events and more.
Features:
Complete menu listing
Restaurant hours
Location - via maps
Tell a friend, via Twitter, Facebook and email
In-App reservations
Offers/Specials/events
Chef Allen has been flipping burgers for over four decades. He knows how to cook a burger meaty, juicy & savory. During his formative days, Allen grilled thousands of burgers for many summers at Rockaway Beach in NYC. His Straightforward joy of cooking stirred him to become a chef. Now this James Beard winning chef, who changed and inspired the culinary landscape in South Florida forever with his landmark restaurant Chef Allen's, returns to his roots of flipping burgers. Simple, Honest, and Authentic - made to order burgers.
Quality matters and great burgers begin with great ingredients and minimal preparation. While recognizing the need for the familiar and the desire for unexpected choices, Susser has created the Burger Bar by Chef Allen for you.
Chef Allen's 2 Go!
by Chef Allen
We are pleased to announce that Chef Allen's 2 Go has expanded yet again! Our Chef-Made Sandwiches and Salads can now be found at the Museum of Art in Fort Lauderdale and at Books and Books in the Bal Harbor Shops!
Chef Allen's 2 GO is a casual concept of local, tropical and delicious flavors in an enormously comfortable environment. It is a haven, out of the hurry of the moment, yet making it handy to Grab and Go.
Chef Allen's 2 GO differentiates itself with a touch of service that goes beyond the typical sandwich kiosk. We take a "hands on" approach to making everybody happy. The made sandwiches, salads, platters and other foods are interesting but not intimidating. The flavors reflect our diverse cultures from right here in South Florida including the Caribbean and Latin influences.
Recipe of the Month
Mahi–Mahi in Red Wine Sauce
Ingredients to Serve- 4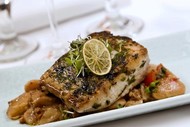 4 Pieces Mahi mahi, with skin on
4 Tablespoons Butter, melted
1 Teaspoon Dried thyme
1 Teaspoon Salt
½ Teaspoon Freshly ground black pepper
½ Cup Minced carrots
½ Cup Minced celery
½ Cup Minced onion
¼ Teaspoon Allspice
¼ Teaspoon Ground cloves
¼ Teaspoon Freshly grated nutmeg
½ Teaspoon Curry powder
1 bottle Dry Red wine
5 Cups Chicken stock
1 Cup Port wine
1 Tablespoon All purpose flour

To prepare the Mahi-mahi:
Brush the mahi with melted butter. Season both sides of the fish with thyme, salt and pepper. Set aside covered.

To Prepare the red wine sauce:
In a medium sauce pan, add 2 tablespoons of butter along with the carrot, celery, onion, spices and remaining salt and pepper. Cook over high heat until the vegetables are well browned and caramelized. Add the red wine, stock and port. Bring to a boil and simmer to reduce the sauce until about 1 cup of liquid remains. Mix the flour together with the 1 tablespoon of butter. Strain the sauce into a small pan and whisk in the flour mixture, a little at a time until thickened and the sauce has a clean gloss.

To cook the Mahi-mahi:
In a heavy bottomed pan, heat the remaining butter. As it starts to sizzle add in the fish skin side down to begin. Cook for 3-4 minutes on medium high heat and then turn the fish. Cook the second side for another 2 minutes. Add a tablespoon of the res wine sauce to glaze the mahi-mahi..

To serve:
Pour the sauce in the center of the plates and place the mahi-mahi just off center to the circle of sauce.