Recipe of the Month
Devils on Horseback
Medjool dates are some of the best in the world. The date palm tree is known as the tree of life. Originally from Morocco, the Medjool Date was reserved for royal hosts and other dignitaries. They are my favorite. Prepared as "Devils" they are one of our most popular starters in the restaurant.
Yield: 12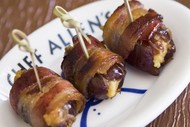 12 Large Medjool Dates
¼ Cup Mango Chutney
¼ Cup Manchego Cheese, grated
6 Strips Apple wood smoked Bacon
To prepare the Dates:
using a paring knife cut the date in half-length wise to the pit. Remove the pit and open the date. Do not cut through
To prepare the stuffing:
in a small bowl combine the chutney and cheese with a small fork, mashing it together lightly. Spoon a teaspoon of the filling into the center of each date. Close the date around the filling.
To finish and bake:
preheat oven to 350 degrees. Lay out the bacon strips and cut each in half. Wrap the half strip of bacon tightly around the center of each date. Place the dates on a baking sheet, evenly spaced. Bake for 8-10 minutes until bacon is crispy. Remove from oven and place a toothpick through each. Serve on a small colorful plate.