"Savvy" - Chef Allen's September 2010 Newsletter
Chef Allen's Spring/Summer
Group Party Menu
Business Meeting · Pharmaceutical Presentation · Birthday Party · Engagement Celebration · Bar/Bat Mitzvah · Rehearsal Dinner · Wedding Reception · Cooking Classes
Exceptional service and the highest quality ingredients make Chef Allen's the best choice for your next group event. With more than 20 years of experience at the helm of his namesake restaurant- Chef Allen's, Executive Chef and Owner Allen Susser has created a culinary institution for fine dining in South Florida. Chef Allen's cuisine is fresh and flavorful, like a tropical vacation on a plate. The sweet, spicy and aromatic flavors of his cooking encompass the foods, cultures and techniques from around the globe. We are very proud to serve only locally caught and sustainable fish and seafood. Choose from one of our prix-fixe menu options, or consult our Special Events Coordinator to tailor a customized party plan.

DOWNLOAD GROUP PARTY MENU HERE
Call 305-935-2900 or click here to make a reservation.
South Florida Fall Food Trends
During the fall season, as the rest of the United States moves into heartier, rich dishes to combat the dropping temperatures, with traditional cold-weather items like butternut squash, apples, and braised meats filling menus in the North we are happy to provide lighter takes on fall traditions for our warm and tropical climate.
Come into Chef Allen's this fall for Wood Roasted Apricot & Miso Short Ribs, Florida Rock Shrimp "Mac and Cheese", Fresh Blue Crab Cakes with Mango Chutney, and Local Grouper Ceviche.
Call 305-935-2900 or click here to make a reservation.
Wine Corner
Wine Pairings
In the past, one would be ostracized from a restaurant for enjoying their favorite Chardonnay with a perfectly-cooked, medium-rare Tenderloin as much as a debutant would for wearing white after Labor Day, but luckily times have changed (but just for the wines, not the Debs)! The hard-fast rule to pairing your wine with your meal is: drink what you love! Pairing wines with fare can be as complicated as knowing what you need the acidity in the wine to do to open the food (or vise versa), or as simplistic as knowing to pair like with like (a big, heavy wine such as Cabernet Sauvignon with a heavy meal such as a Bone-in Ribeye with Mashed Potatoes or a clean, fresh Sauvignon Blanc with Pan Seared Corvina with Curried Green Lentils, Tomato, and Lobster Veloute). We have taken the guess work out of all of this for you and paired different wines for each individual menu option on our Miami Spice Menu!
We will be changing the menu items and the wine pairings every two weeks—Salut!
Call 305-935-2900 or click here to make a reservation.
Miami Spice Menu
Miami Spice 2010 is a mouth-watering summer restaurant promotion showcasing the very best of Miami cuisine. During August and September, Miami's top restaurants offer three-course meals (Lunch $22, Dinner $35)* featuring signature dishes created by world-renowned chefs. Discover the tropical fusion of ingredients that makes Miami dining so wonderfully out of the ordinary. An epicure's paradise awaits you in Greater Miami and the Beaches!
Broiled Escargot
Sherry, Garlic Butter, Ciabatta Toast
Chandon, Brut Classic, USA

Or

Roasted Rainbow Beet Salad
Maytag Blue Cheese, Pickled Shallots, Watercress, Sherry Vinaigrette
Cuvee Marie, Jurancon Sec, France

Or

Shrimp "Mac and Cheese"
Orecchiette Pasta, Tarragon, Shiitake Mushrooms, Tomatoes
Lake Sonoma, Chardonnay, Russian River Valley

******* ****** ******

Wood Grilled Cobia
Peruvian Purple Potatoes, Baby Carrots, Yellow Tomato Puree
Casa Lapostelle, Sauvignon Blanc, Chile

Or

Pan Seared Corvina
Giant Lima Bean Stew, Bacon, Romesco
Mt. Difficulty, Pinot Noir, New Zealand

Or

Wood Grilled Hanger Steak
Pineapple Worcestershire, Hand Cut Fries
Super Tuscan, Prima Voce, Italy

******* ****** ******

Chocolate & Peanut Butter Napoleon
Caramel Sauce, Roasted Peanut Brittle
Fonseca Ruby Port, Portugal

Or

Tahitian Vanilla Panacotta
Pineapple-Ginger Compote, Tuille Cookie
Vouvray, Chateau du Montfort, France

Miami Spice Dinner: $35
Wine Pairings Are Additional $25

**No Substitutions, Please**
**No Sharing**
Call 305-935-2900 or click here to make a reservation.
Dealing w/ Mangos
The word is out that I'll trade mangos for dinners. It's a simple deal: dinner for two at Chef Allen's for a wheelbarrow of Mangos. That might seem like a steep bounty for this humble fruit, but not in South Florida. It's a challenge Miamians happily rise to every summer, when mangos are plentiful in backyards and groves alike. The pride of owning a mango tree turns to a passion as the trees begin to ripen this year in early August..
For more information please call the restaurant at 305.935.2900
Recipe of the Month
Jerk Calamari, Mango and Watercress Salad

Ingredients to Serve- 4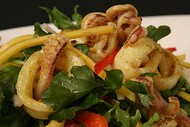 2 Cups Calamari rings
1 Recipe Fresh Jerk marinate
4 Tablespoons Olive oil
1 Tablespoon Dark rum
1 Cup Julienne mango
1 Cup Julienne jicama
1 Cup Julienne sweet red peppers
2 Cups Cleaned Watercress leaves
3 Tablespoons Freshly squeezed lemon juice
2 Tablespoons Yogurt
¼ Teaspoon Crushed red pepper flakes
10 Large Fresh mint leaves
To prepare the Calamari: In a small stainless steel bowl mix the calamari with jerk marinate. Warm a sauté pan with half of the olive oil over medium high heat. Add the calamari and sauté for 2-3 minutes. Slowly add the rum and simmer for another minute. Remove the calamari from the pan, keeping warm and reserve the cooking juices.
To prepare the Salad: In a large bowl, toss together the mango, jicama, peppers and watercress. In another small bowl, whisk together the pan juices with the remaining salt, olive oil, lemon juice, yogurt and crushed red pepper flakes. Pour this dressing over the salad and toss.
To Serve: In a large white oval platter, arrange the salad and spoon the warm jerked calamari on top. Garnish with freshly torn mint leaves.