"Savvy" - Chef Allen's May 2010 Newsletter

Chef Allen's Mothers Day Brunch
Sunday, May 9th
Brunch 12:00noon - 3:00pm
Dinner 5:00pm - 9:00pm
Be sure to celebrate your Mom's special day with a unique experience at Chef Allen's. We want to cook for your family. We are offering this special menu along with an a la carte menu, so there are many choices. We are also opening early for dinner on Mother's Day, if you are inclined to dine in the evening. A special price fix menu as well as a al carte will be available.
Blue Crab Cake
Tropical Fruit Chutney, Micro Mint Salad
Or
Short Rib Slider
Pickled Shallot, Manchego Cheese
Or
Lobster Mac & Cheese
Garganelli Pasta, Tomato, Shiitake Mushroom, Sherry Cream Sauce
*******
Sun-Dried Tomato Caesar
Garlic Croutons, Grana-Padana Cheese, Toasted Sesame
Or
Warm Wild Mushroom Salad
Tomatoes, Preserved Lemon, Baby Spinach, Olives, Balsamic Vinaigrette
Or
"The Wedge"
Bibb Lettuce, Uncured Bacon, Maytag Dressing, Heirloom Tomatoes
*******
Pistachio Crusted Mahi-Mahi
Rock Shrimp, Mango, Leeks, Coconut Milk
Or
Wood Roasted Prime Rib
Baby Heirloom Carrots, Purple Fingerling Potatoes, Au Jus
Or
Grilled Swordfish
Roasted Sunchokes, Sundried Tomatoes, Olives
Or
"Steak & Eggs"
NY Strip Steak, Vegetable Quiche, Crisp Shallots
Or
Pineapple & Cream Cheese Stuffed French Toast
Gran Marnier Syrup, Whipped Cream
Or
Carrot Risotto
Shaved Red Onion, Braised Fennel, English Green Peas
*******
Upside-Down Key Lime Pie
Brown Sugar Meringue, Blueberry Coulis
Or
Chocolate Banana Bread Pudding
Caramelized Banana, Bourbon Pecan Sauce
Or
Bacon, Guava and Goat Cheese Pastelito
Orange Vanilla Sauce, Espresso Ice Cream
Or
Trio of Tropical Fruit Sorbet
Pineapple, Coconut, Mango
*******
$59 Per Guest
Sides
$4
| | | | | |
| --- | --- | --- | --- | --- |
| Uncured Bacon | Breakfast Sausage | Chili Baked Sweet Potato Wedges | Hand Cut French Fries | Roasted Fingerling Potatoes |

$59.00 per person (plus tax & gratuity)

> Click Here To Make a Reservation
Chef Allen's Lobster Night
Kick off the summer season with Chef Allen's, and come in every Tuesday, starting May 18, running through June 29 for the return of our Lobster Night!
Enjoy a 3-course menu, featuring a 1 ½ # Maine Lobster; paired with select brews from our new Craft Beer List for only $36!
Rock Shrimp Caesar Salad
Garlic Croutons, Romaine Hearts, Grana-Padana Cheese
60 Minute IPA, Dogfish Head, Delaware
*****
Steamed 1 ½ # Maine Lobster
Chorizo, Corn on the Cob, Fingerling Potatoes
Lobster Ale, Belfast Bay Brewing Company, Maine
*****
Berry Crumble
Streusel Topping, Vanilla Ice Cream
Blueberry Wheat Ale, Seadog Brewing Co., Maine
> Click Here To Make a Reservation
Taste Gastropub
Delray Beach
I wanted to let you know about my exciting new restaurant project in Delray Beach, Florida, opening to the public Monday, May 12, 2010. I'm the consulting chef for Taste Gastropub, a wonderfully laid back, indoor-outdoor dining destination, offering soulful retro dishes and contemporary fare with an emphasis on beautiful ingredients. Joining me is talented executive chef Jamie DeRosa, a rising star who honed his skills at Chef Allen's. Taste incorporates three dining/drinking bars, including a backyard garden with a waterfall, a sidewalk café and two cool inner dining areas. Offering contemporary dishes at prices designed to please, Taste serves handcrafted beers, fine wines, classic and innovative cocktails. With an emphasis on products sourced from small farmers and local fishermen, the menu ranges from tasty bar snacks to hearty entrees. There are delicious charcuterie platters, and raw bar items ranging from fresh seasonal oysters to house cured salmon. Small and medium plates include jerk chicken wing lollipops, with mango barbecue sauce, and Florida rock shrimp, with peanut brittle, chilies, soy lime and coriander. Hearty sandwiches are served a La Plancha. Large plates include a tender barbecue chicken with chorizo and cheddar tator tots; a daily braise is served in half and full portions. The dessert menu includes a Candy Bar with house-made retro chocolates. Please visit Taste Gastropub, located at 169 N.E. 2nd Avenue, Pineapple Grove, in Delray Beach and let me know what you think. We are serving dinner nightly; with lunch and brunch coming soon. Phone is 561-274-4444.
Wine Corner
Taking into consideration that Mother's Day is just around the corner along with the heat of South Florida summertime, these two wines will be perfect to celebrate with Mom and a refreshing way to withstand the heat: Nicolas Feuillate, Champagne, Brut and Cuvee Marie, Jurancon Sec.
Nicolas Feuillate, Champagne, Brut (20% Chardonnay, 40% Pinot Noir, 40% Pinot Meunier) is a beautiful backdrop of pears, fuji apples, grapefruits, and almonds engulfed in playful bubbles with a clean, dry finish. Enjoy some with your Mother's Day brunch or with your Lobster dinner (if you decide to for go the beer selections!)
Charles Hours' Cuvee Marie, Jurancon Sec, '06, France is the best find in white wine that I have encountered in quite some time! This wine is an elegant representation of what some smaller, little known regions of France can produce! When tasting this wine one first experiences the delight of beautiful, rich gold color, and then you move into the fruity bouquet of apricots, and spring flowers, and finally finish with the parlay of light acid with tastes of creamy pear, allspice and a bit of smoke. This is a true GEM and we are offering it by the glass and the bottle!
REMEMBER: EVERY WEDNESDAY IS WINE DOWN WEDNESDAY—ALL BOTTLES OF WINE ON THE LIST ARE HALF PRICE!
Call 305-935-2900 or click here to make a reservation.
Recipe of the Month
Fresh Zucchini Blossoms
Golden Chanterelles, White Bean Hummus, Harrisa, Mint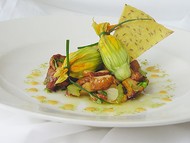 For the Zucchini Blossoms:
12 Very Large Zucchini Blossoms
1 cup white bean hummus
12 fresh chives
Fill each of the blossoms, using a pastry bag, with enough hummus to fill the bulb well. Blanch the chives, and tie the head of the blossom closed. This will be served at room temperature.
For the Hummus:
1 1/2 cups dried White Beans, cooked until soft
2 cloves garlic, chopped
1/4 cup tahini
1/4 teaspoon cayenne pepper
1/2 teaspoon ground cumin
1/2 teaspoon dried oregano
1/2 lemon, juiced
1/2 cup to 3/4 cup olive oil
Salt and freshly ground pepper
3 tablespoons chopped parsley leaves
1 tablespoon minced chives
Put the white beans, garlic, and tahini in the work bowl a food processor. Pulse until it becomes paste-like, adding a few tablespoons of water, if needed. Add the cayenne, cumin, oregano, and lemon juice, and pulse again until combined. With the motor running, slowly add the olive oil until emulsified. Add the parsley and chives - pulse until just combined. Season with salt and pepper, to taste. Transfer to a small bowl.
For the Chanterelles:
1/4 cup extra-virgin olive oil
3 tablespoons fresh lemon juice
1 sprig fresh thyme
1/4 teaspoon fennel seeds
1/2 teaspoon crushed coriander seeds
1 garlic clove, thinly sliced
1/4 cup minced celery
2 teaspoons black peppercorns
1 bay leaf
1/4 cup water
1 pound Chanterelles
¼ pound micro watercress
Combine all ingredients except mushrooms, lemon and parsley in a saucepan and bring to a boil, cover, and simmer for 5 minutes. Add the mushrooms to mixture in saucepan and simmer another 5 minutes. With a slotted spoon remove mushrooms to a bowl. Boil the cooking liquid until reduced and thickened. Pour sauce over mushrooms and chill. For service, sprinkle with micro watercress and additional extra virgin olive oil.
For the Harissa:
1 teaspoon cumin seed
1/2 teaspoon coriander seeds
1/2 teaspoon caraway seeds
2 hot red dried arbol chiles, stemmed but not seeded (about 2 inches in length)
2 garlic cloves
1/2 teaspoon coarse salt
1 medium red bell pepper, roasted, coarsely chopped
1 tablespoon olive oil
To make the harissa: In a mortar with a pestle, an electric spice grinder, or a cleaned coffee grinder, grind seeds fine. If using mortar and pestle, add chiles, garlic, and salt and pound, to taste. If using a spice or coffee grinder, transfer seeds to a small food processor and add chiles, garlic, and salt. Grind mixture to a paste. Add pepper and oil and pound or puree to a coarse paste.
Mint Oil:
1/2 cup packed fresh mint leaves
3/4 cup extra-virgin olive oil
Bring a saucepan of water to a boil. Prepare and ice bath. Plunge the mint leaves into the boiling water for 30 seconds, then remove to the ice bath. Squeeze out the excess liquid and puree in a blender for 1 minute with the olive oil. Makes 1 cup.
To Plate:
Spoon chanterelles in the center of the plate
Place stuffed zucchini blossom on top of chanterelles
Drizzle with harrisa and mint oil separately
Garnish with cumin crisp