"Savvy" - Chef Allen's April 2010 Newsletter


Chef Allen's Mothers Day Brunch
Sunday, May 9th
Brunch 12:00noon - 3:00pm
Dinner 5:00pm - 9:00pm
Be sure to celebrate your Mom's special day with a unique experience at Chef Allen's. We want to cook for your family. We are offering this special menu along with an a la carte menu, so there are many choices. We are also opening early for dinner on Mother's Day, if you are inclined to dine in the evening. A special price fix menu as well as a al carte will be available.
Blue Crab Cake
Tropical Fruit Chutney, Micro Mint Salad
Or
Short Rib Slider
Pickled Shallot, Manchego Cheese
Or
Lobster Mac & Cheese
Garganelli Pasta, Tomato, Shiitake Mushroom, Sherry Cream Sauce
*******
Sun-Dried Tomato Caesar
Garlic Croutons, Grana-Padana Cheese, Toasted Sesame
Or
Warm Wild Mushroom Salad
Tomatoes, Preserved Lemon, Baby Spinach, Olives, Balsamic Vinaigrette
Or
"The Wedge"
Bibb Lettuce, Uncured Bacon, Maytag Dressing, Heirloom Tomatoes
*******
Pistachio Crusted Mahi-Mahi
Rock Shrimp, Mango, Leeks, Coconut Milk
Or
Wood Roasted Prime Rib
Baby Heirloom Carrots, Purple Fingerling Potatoes, Au Jus
Or
Grilled Swordfish
Roasted Sunchokes, Sundried Tomatoes, Olives
Or
"Steak & Eggs"
NY Strip Steak, Vegetable Quiche, Crisp Shallots
Or
Pineapple & Cream Cheese Stuffed French Toast
Gran Marnier Syrup, Whipped Cream
Or
Carrot Risotto
Shaved Red Onion, Braised Fennel, English Green Peas
*******
Upside-Down Key Lime Pie
Brown Sugar Meringue, Blueberry Coulis
Or
Chocolate Banana Bread Pudding
Caramelized Banana, Bourbon Pecan Sauce
Or
Bacon, Guava and Goat Cheese Pastelito
Orange Vanilla Sauce, Espresso Ice Cream
Or
Trio of Tropical Fruit Sorbet
Pineapple, Coconut, Mango
*******
$59 Per Guest
Sides
$4
| | | | | |
| --- | --- | --- | --- | --- |
| Uncured Bacon | Breakfast Sausage | Chili Baked Sweet Potato Wedges | Hand Cut French Fries | Roasted Fingerling Potatoes |

$59.00 per person (plus tax & gratuity)

> Click Here To Make a Reservation
Taste Gastropub
Delray Beach
I wanted to let you know about my exciting new restaurant project in Delray Beach, Florida, opening to the public Monday, April 12, 2010. I'm the consulting chef for Taste Gastropub, a wonderfully laid back, indoor-outdoor dining destination, offering soulful retro dishes and contemporary fare with an emphasis on beautiful ingredients. Joining me is talented executive chef Jamie DeRosa, a rising star who honed his skills at Chef Allen's. Taste incorporates three dining/drinking bars, including a backyard garden with a waterfall, a sidewalk café and two cool inner dining areas. Offering contemporary dishes at prices designed to please, Taste serves handcrafted beers, fine wines, classic and innovative cocktails. With an emphasis on products sourced from small farmers and local fishermen, the menu ranges from tasty bar snacks to hearty entrees. There are delicious charcuterie platters, and raw bar items ranging from fresh seasonal oysters to house cured salmon. Small and medium plates include jerk chicken wing lollipops, with mango barbecue sauce, and Florida rock shrimp, with peanut brittle, chilies, soy lime and coriander. Hearty sandwiches are served a La Plancha. Large plates include a tender barbecue chicken with chorizo and cheddar tator tots; a daily braise is served in half and full portions. The dessert menu includes a Candy Bar with house-made retro chocolates. Please visit Taste Gastropub, located at 169 N.E. 2nd Avenue, Pineapple Grove, in Delray Beach and let me know what you think. We are serving dinner nightly; with lunch and brunch coming soon. Phone is 561-274-4444.
Wine Corner
Spring has definitely sprung here in South Florida with those warm days and cool nights, and that is perfect time to try this month's wine pick's here at Chef Allen's: Sanford Chardonnay and David Bruce Petit Syrah.
Sanford Chardonnay ($45) is creamy and buttery, yet with tropical notes of pineapple and mango bring us right into spring. This Chardonnay is the PERFECT pair with so many of our dishes here at Chef Allen's-try the Mango BBQ Frog Legs (you decide how hot) or the Pistachio Crusted Mahi Mahi.
David Bruce Petit Syrah ($40) is one of the best balanced and big-enough but not overwhelming wines that we offer. The wine bears hints of blueberry and blackberry with undertones of white pepper and has such a beautiful, clean finish. It is wonderful with our Lamb Chops and if there is any left for dessert be sure to enjoy it with our Chocolate Soufflé (order in advance).
REMEMBER: EVERY WEDNESDAY IS WINE DOWN WEDNESDAY—ALL BOTTLES OF WINE ON THE LIST ARE HALF PRICE!
Call 305-935-2900 or click here to make a reservation.
Recipe of the Month
Chef Allen's Vanilla Rum Soufflé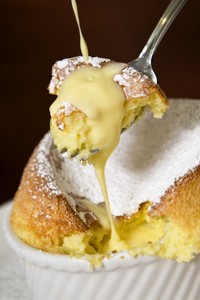 Chocolate base:
1 cup Whole milk
1 whole Vanilla bean (split and seeded)
1 ½ oz. Butter (cubed)
2 oz. All Purpose flour
4 Egg yolks
½ cup Sugar
2 oz. Vanilla Rum or Spiced Rum
Meringue:
5 Egg whites
1 pinch Salt
3 Tablespoons Sugar
Preparation for soufflé base:
1. In a small sauce pot, bring milk and vanilla bean to a boil.
2. On an electrical mixer, using a paddle attachment, blend together butter and flour. Mix until incorporated and resembles a soft dough.
3. As soon as the milk comes to a boil, lower the heat to a simmer and remove the vanilla bean. Stir in butter mixture with whisk until lumps are out. Switch to a rubber spatula or wooden spoon, stirring constantly to avoid burning, cook for approximately 3 minutes until the mixture rolls from the sides.
4. Place the mixture back into the mixer, with the paddle mix on low speed gradually add the egg yolks followed by the sugar.
5. Last add the Vanilla Rum.
6. Cover with plastic wrap directly touching the surface of the chocolate base.
7. Allow the base to cool at room temperature.
For Meringue:
1. Whisk egg whites with a pinch of salt on high speed.
2. After I minute add sugar slowly; continue whisking until the meringue reaches to a soft peak.
Assembly for soufflé batter:
1. Fold half of the meringue into base firmly to smooth out any lumps.
2. Add the remaining half of the meringue and fold in very gently so to retain the volume.
Assembly for soufflé:
1. Butter and sugar the ramekin.
2. Fill with soufflé batter.
3. Bake in a preheat 330 F convection oven for 20 minutes.
Note: For other types of oven bake at 375 F for 30 minutes.