"Savvy" - Chef Allen's March 2010 Newsletter


Chef Allen's 2 GO


Chef Allen's 2 GO is a casual concept of local, tropical and delicious flavors in an enormously comfortable environment. It is a haven, out of the hurry of the moment, yet making it handy to Grab and Go.

Chef Allen's 2 GO differentiates itself with a touch of service that goes beyond the typical sandwich kiosk. We take a "hands on" approach to making everybody happy. The made sandwiches, salads, platters and other foods are interesting but not intimidating. The flavors reflect our diverse cultures from right here in South Florida including the Caribbean and Latin influences.

[Chef Allen]



Chef Allen's 2GO Menu
Sandwiches:



Jerk Grilled Chicken with Curry Slaw
Chef Allen's Mango Ketchup, Red Peppers & Raisins, Challah Roll


Lime Roasted Turkey & Manchego Cheese
Organic Arugula, Chef Allen's Key Lime Mojo Aioli, Multi Grain Bread


Chimichurri Roast Beef & Fire Roasted Peppers
Caramelized Onions, Organic Field Greens,
Chef Allen's Tamarind Sauce, Ciabatta Bread


Papaya Pineapple BBQ Ham & Swiss Cheese
Organic Arugula, Pommery Mustard, Onion Panini Bread




Salads:



Key Lime Tuna Salad with Plantain Chips
Organic Mixed Greens, Tomato Salsa & Chef Allen's Cilantro Vinaigrette


Crunchy Caribbean Chicken Cobb Salad
Chicken, Ham, Mango, Green Peppers, Corn & Black Bean Salsa,
Pico de Gallo, Romaine & Chef Allen's Key Lime Vinaigrette


Chicken Caesar with Heart of Palm Salad
Romaine, Cherry Tomatoes, Asiago Garlic Crouton,
Shaved Parmesan, Chef Allen's Caesar Dressing


Wild Florida Shrimp, Watermelon & Blue Chips
Organic Greens, Napa Cabbage, Chef Allen's Hot Mango Cocktail Sauce



Chef Allen's Passover Seder


March 29th and 30th Beginning at 6pm



Our Passover Seder plate will feature not one but three different types of Harosets- a sweet fruit, nut and wine mixture, reflecting the diversity of Judaism throughout the world include Venetian, Caribbean, and Yemenite Jewish family influences.

Jewish food tells a story of its people each day of the week, but more so on holidays. Foods considered leavened are forbidden, during the Passover celebration. The essence of Passover is the celebration of freedom.

We are serving Seder dinners at Chef Allen's, for the first 2 nights of Passover on April 8th and 9th. The menu tells the story. The remained of the Passover week we will serve foods appropriate for Passover. Proceeds from the Seders are donated in honor of Chef Allen's grandmother to the Rose Rosenkranz Philanthropic League to benefit those less fortunate families, to bring them Passover foods.


The Traditional SEDER plate
Served with A Tasting of Charoseths
Ashkenazi: Apple, Walnut and Concord Grape Wine

Caribbean Sephardic: Coconut, Almonds and Dried Fruit

Yemenite: Dates, Apricot and Sesame
***************

Pan Roasted Mahi Mahi Cake
Moroccan Carrot -Almond Relish, Horseradish Foam

***************

Zucchini Matzo Lasagna
Organic Spinach, Purple Eggplant, Tomato Salsa
or
My Grandmother's Chicken Foot Soup
Parsnips, Green Onion, Motzah Balls

***************

Zaatar Grilled Lamb Steak
Sweet Potato Matzo Brei, Crisp Pickled Vegetables
or
Preserved Lemon Rotisserie Kosher Chicken
Cinnamon, Apples and Apricots
or
Olive Oil Poached Salmon
Braised Fennel, Grapes, Raisins, and Saffron

***************

for the family to share
Root Vegetable Cholent, Tahini Haricot Verts Calabaza Motzah Kugel

***************

Hazelnut Almond Cake
Lemon Curd and Seasonal Berries
or
Chocolate Pecan Macaroon Brownie
Chocolate Cinnamon Sorbet


Adults: $75.00 per person (plus tax & gratuity)
Children: $50.00 per person (plus tax & gratuity)

> Click Here To Make a Reservation for Monday March 29th
> Click Here To Make a Reservation for Tuesday March 30th
Wine Down Wednesday
Mark you calendar to be here on Wednesdays to explore our wine list. Every Wednesday, every bottle is 1/2 off!
On the last Wednesday of the month, February 24th, we will have a wine tasting along with complimentary finger foods from 6:00 – 7:00, each evening we offer a delicious wine paired menu.
Call 305-935-2900 or click here to make a reservation.
Recipe of the Month
Jerk Calamari, Mango and Watercress Salad

Ingredients to Serve- 4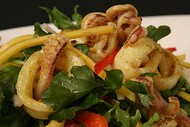 2 Cups Calamari rings
1 Recipe Fresh Jerk marinate
4 Tablespoons Olive oil
1 Tablespoon Dark rum
1 Cup Julienne mango
1 Cup Julienne jicama
1 Cup Julienne sweet red peppers
2 Cups Cleaned Watercress leaves
3 Tablespoons Freshly squeezed lemon juice
2 Tablespoons Yogurt
¼ Teaspoon Crushed red pepper flakes
10 Large Fresh mint leaves
To prepare the Calamari: In a small stainless steel bowl mix the calamari with jerk marinate. Warm a sauté pan with half of the olive oil over medium high heat. Add the calamari and sauté for 2-3 minutes. Slowly add the rum and simmer for another minute. Remove the calamari from the pan, keeping warm and reserve the cooking juices.
To prepare the Salad: In a large bowl, toss together the mango, jicama, peppers and watercress. In another small bowl, whisk together the pan juices with the remaining salt, olive oil, lemon juice, yogurt and crushed red pepper flakes. Pour this dressing over the salad and toss.
To Serve: In a large white oval platter, arrange the salad and spoon the warm jerked calamari on top. Garnish with freshly torn mint leaves.