"Savvy" - Chef Allen's January 2010 Newsletter


Merryvale Wine Tasting Dinner
At Chef Allen's Seafood Grill
Please Join Us For a Wine Dinner with Merryvale Vineyards Tuesday, January 19th, 2010
Reception at 6:30pm


Dinner Menu
Jumbo Stone Crab Claw
Pear, Micro Pea Shoot & Watercress Salad, Honey Mustard Foam
2008 Starmont Sauvignon Blanc, Napa Valley
*****
Pan Seared Diver Scallop
Wild Mushroom & Pigeon Pea Stew, Vanilla Consommè
2007 Merryvale Pinot Noir, Carneros
*****
Braised Veal Cheek
Maytag-Blue Risotto, Seared Radicchio, Dried Cherry Compote
2006 Merryvale Cabernet Sauvignon, Napa Valley
*****
Fig & Dulce de Leche Mousse Napoleon
Vanilla and Rum Roasted Figs, Orange Gastrique
Antigua Dessert Wine
$100 per guest
tax & gratuity not included
Call 305-935-2900 or click here to make a reservation.
Chef Allen's 2 GO is launched at Ft Lauderdale/Hollywood International Airport


"I look forward to bringing my unique style of cooking, rich with fresh Latin American and Caribbean flavors and seasonal ingredients, to the Fort Lauderdale airport to broaden and enhance what people expect from airport food."
[Chef Allen]

Delaware North Companies Travel Hospitality Services helped revolutionize airport dining nationwide with its Gateway Concept, which focuses on developing airports into reflections of their communities and economic development engines for their regions by showcasing local tastes and products. The introduction of Chef Allen 2 Go products at Ft. Lauderdale is tangible evidence of this program's value.

"The Gateway Concept is something we're very proud of and it's helped us develop this partnership with Chef Allen," said Matt King, president of Delaware North Companies Travel Hospitality Services. "We pride ourselves in partnering with innovative brands that expand travelers' perceptions of airport food. We are confident this partnership with Chef Allen will provide travelers with the unique opportunity to experience South Florida's regional flavors and the cooking master that has made him famous"
Chef Allen's 2 GO


Chef Allen's 2 GO is a casual concept of local, tropical and delicious flavors in an enormously comfortable environment. It is a haven, out of the hurry of the moment, yet making it handy to Grab and Go.

Chef Allen's 2 GO differentiates itself with a touch of service that goes beyond the typical sandwich kiosk. We take a "hands on" approach to making everybody happy. The made sandwiches, salads, platters and other foods are interesting but not intimidating. The flavors reflect our diverse cultures from right here in South Florida including the Caribbean and Latin influences.

[Chef Allen]



Chef Allen's 2GO Menu
Sandwiches:



Jerk Grilled Chicken with Curry Slaw
Chef Allen's Mango Ketchup, Red Peppers & Raisins, Challah Roll


Lime Roasted Turkey & Manchego Cheese
Organic Arugula, Chef Allen's Key Lime Mojo Aioli, Multi Grain Bread


Chimichurri Roast Beef & Fire Roasted Peppers
Caramelized Onions, Organic Field Greens,
Chef Allen's Tamarind Sauce, Ciabatta Bread


Papaya Pineapple BBQ Ham & Swiss Cheese
Organic Arugula, Pommery Mustard, Onion Panini Bread




Salads:



Key Lime Tuna Salad with Plantain Chips
Organic Mixed Greens, Tomato Salsa & Chef Allen's Cilantro Vinaigrette


Crunchy Caribbean Chicken Cobb Salad
Chicken, Ham, Mango, Green Peppers, Corn & Black Bean Salsa,
Pico de Gallo, Romaine & Chef Allen's Key Lime Vinaigrette


Chicken Caesar with Heart of Palm Salad
Romaine, Cherry Tomatoes, Asiago Garlic Crouton,
Shaved Parmesan, Chef Allen's Caesar Dressing


Wild Florida Shrimp, Watermelon & Blue Chips
Organic Greens, Napa Cabbage, Chef Allen's Hot Mango Cocktail Sauce



Zagat Guide New 2010 Review
We would like to thank all of our guests and fans who voted for us in the latest 2010 Zagat Guide.
here is a copy of the review:

| | | | |
| --- | --- | --- | --- |
| Food | Decor | Service | Cost |
| 26 | 22 | 25 | $63 |
"The master is still at work" exalt enthusiasts wowed by the "reinvention" of original Mango Gangster Allen Susser's "expense-account destination" into a "seafood bistro" featuring "fresh, imaginative" fin fare, "striking modern decor" ("a treat for the eyes"), "superb service" and "downscaled pricing"; if a few nostalgists "miss" the "good old times", they're overruled by those who say this Aventura "classic" has "been reborn – and the baby is terrific.
Wine Down Wednesday
Mark you calendar to be here on Wednesdays to explore our wine list. Every Wednesday, every bottle is 1/2 off!
On the last Wednesday of the month, January 27th, we will have a wine tasting along with complimentary finger foods from 6:00 – 7:00, each evening we offer a delicious wine paired menu.
Call 305-935-2900 or click here to make a reservation.
Recipe of the Month
Devils on Horseback

Medjool dates are some of the best in the world. The date palm tree is known as the tree of life. Originally from Morocco, the Medjool Date was reserved for royal hosts and other dignitaries. They are my favorite. Prepared as "Devils" they are one of our most popular starters in the restaurant.
Yield: 12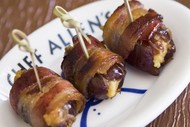 12 Large Medjool Dates
¼ Cup Mango Chutney
¼ Cup Manchego Cheese, grated
6 Strips Apple wood smoked Bacon

To prepare the Dates:
using a paring knife cut the date in half-length wise to the pit. Remove the pit and open the date. Do not cut through

To prepare the stuffing:
in a small bowl combine the chutney and cheese with a small fork, mashing it together lightly. Spoon a teaspoon of the filling into the center of each date. Close the date around the filling.

To finish and bake:
preheat oven to 350 degrees. Lay out the bacon strips and cut each in half. Wrap the half strip of bacon tightly around the center of each date. Place the dates on a baking sheet, evenly spaced. Bake for 8-10 minutes until bacon is crispy. Remove from oven and place a toothpick through each. Serve on a small colorful plate.