"Savvy" - Chef Allen's December 2009 Newsletter


Christmas Dinner 2009
Available Christmas Eve & Christmas Day
Thursday, December 24 & Friday, December 25



Christmas Dinner Menu
Smoked Salmon Cream Puffs
Meyer Lemon Citrus Salad, Dill, Extra Virgin Olive Oil
***** *****
Oysters Rockefeller
Sambuca, Green Apple, Crispy Panko Crumbs
***** *****
Christmas Cobb Salad
Red Pears, Sun Dried Dates, Black Walnuts, Golden Beets, Maytag Blue
***** *****
Corriander Scented Mahi Mahi
Stone Crab Couscous, West Indian Pumpkin, Lobster Bisque
Spice Route Roasted Duck
Forbidden Black Rice, Cranberry – Mango Chutney, Pomegranate Syrup
Adobo Grilled Filet Mignon
Roasted Organic Root Vegetables, Roesti Potato, Aromatic Red Wine Sauce
***** *****
Baked Apple and Macadamia Nut Cobbler
Eggnog Ice Cream
Chocolate Truffle Cake
Chocolate Chip Peppermint Crackle Ice Cream
***** *****
$62.00 Per Guest
Plus Tax and Gratuity
Call 305-935-2900 or click here to make a reservation.
Rock & Roll New Year's Eve Party
Allen Susser is the restaurant's owner and a James Beard Award-winning chef. This modern open kitchen serves only the most pristineFresh, locally caught fish and sustainable seafood.
Chef Allen's serves the best seafood in the City. A landmark restaurant in South Florida since opening in 1986. This modern seafood bistro was recently renovated to update, streamline, and modernize the look of the intimate space.
December 31, 2009
A choice of three seatings are available
Early Seating 6pm
4 course menu–
$ 66.00 plus tax and gratuity
***** or *****
Middle Seating 8pm
5 course menu-
$ 88.00 plus tax and gratuity
***** or *****
Late Seating 10pm
With Party through to the New Year
6 course menu
Includes passed Hors d'Oeuvres and Sparkling wine reception:
Devils on Horseback
Key Largo Stone Crab Empanada
Smoked Wild Shrimp Club
Scrambled Eggs with Caviar
Party favors, noisemakers and more surprise.
$120.00 plus tax and gratuity
New Year's Eve 2009 Menu
Golden Chanterelle Flan
Fresh Black Truffles, Organic Rainbow Beet Carpaccio, Pomegranate Syrup
**********
Caribbean Fine Herb Roasted Maine Lobster
Hand Made Macaroni, Manchego, Tarragon Emulsion

Or
Jumbo Diver Scallop & Caviar
Scallion Potato Pancake, Pancetta, Red Wine Gastric
********
Butternut Squash and Pink Lady Apple Salad
Organic Radicchio, Maytag Blue, Glazed Walnuts

Or
Hearts of Palm, Black Fig, Feta Salad
Olives, Preserved Lemons, Pickled Jalapeño Vinaigrette
********
Wood Grilled Colorado Lamb Chops
Sweet Potato- Yukon Gold Gratin, Red Pear, Mint Chutney

Or
Wild Caught Yellowfin Tuna
Forbidden Black Fried Rice, Crisp Brussels Sprouts, Marin Glaze

Or
Tamarind Braised KOBE Beef Short Ribs
Anson Mills Lemon Grass Grits, Walla Walla Onion Marmalade
********
Bittersweet Chocolate Fantasy
Caramel Swirl Ice Cream, Pistachio Anglaise
Call 305-935-2900 or click here to make a reservation.
*Tis the season for Gift Giving
Purchase a Gift Certificate Valued at $150 for only $100

Looking for the perfect gift this holiday season?
A Chef Allen's gift certificate offers the perfect way to say
Happy Holidays to your family, friends and colleagues.

Purchase today and receive $150.00 certificate for only $100.00!




Must purchase by December 20th, 2009.
A GIFT OF GOOD TASTE!

*Limited time offer. Subject to availability.
Recipe of the Month
Lobster and Mango Salad
Ingredients to Serve- 4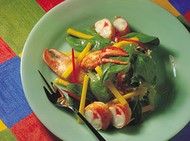 2 (2 pound) Live Maine lobster
2 tablespoons Thai Fish sauce
1 teaspoon Sugar
3 tablespoons Freshly squeezed lime juice
3 tablespoons Olive oil
1 small Thai chili, seeded and minced
12 large Fresh Thai basil leaves, minced
2 sprigs Cilantro leaves, minced
1 cup Shredded Napa cabbage
1 bunch Arugula, stems removed
1 small Red bell pepper, seeded, deribbed, and thinly sliced
1 large Ripe mango, peeled, cut from the pit, then into julienne
To Prepare the Lobster:
Plunge the lobsters into a large pot of boiling salted water. Cover and boil for 10 minutes. Transfer the lobsters to a bowl and let cool to the touch. Using a clean kitchen towel, tear the claws and legs away from the body. Wrap the towel around the tail and twist, separating it from the body. Place the tail on its side and crush down with the palm of your hand until the shell cracks. Separate the meat from the shell and cut it into ½-inch slices. Using a lobster cracker, crack the claws and knuckles of the lobster and remove the flesh with an oyster fork. Use immediately, or cover and refrigerate for up to 24 hours.

To Prepare the Dressing:
In a small bowl, combine the fish sauce, sugar, lime juice and the chili. Stir in the basil and cilantro.

To Prepare the Salad:
In a large bowl, toss the cabbage, arugula, bell pepper, and mango with ¼ cup of the dressing. Arrange the salad on salad plates. Top with overlapping slices of the lobster. Spoon the remaining dressing over the lobster.
2nd Annual CHOCOLATE FESTIVAL December 4th, 2009


The beautiful Caribbean island of St Lucia is host to a wonderful chocolate festival this December 4th-6th. So put the mince pies to one side and indulge in some pre-Christmas, cocoa-fuelled extravagance at the Jade Mountain Estate Chocolate Festival.

The history of Cocoa in St Lucia dates back to the early 1700's – the cocoa trees (over 1,000 of them) were established on the Anse Mamin and Emerald estates. For years they have been consistently harvested and supplied to the local market.

Activities throughout the festival of course feature a prominent chocolate theme, while guests are frequently treated with various, unexpected, chocolate, culinary delights such as chocolate-inspired canapés and iced chocolate chai.

The main activity of the festival is an actual exploration of Nick Troubetzkoy's Emerald Estate Cocoa Plantation which includes discovering an insight into the production of cocoa beans – try your hand at a bit of pod-picking or fermenting if you wish.
http://www.jademountain.com/