Chef Allen's September 2009 Newsletter
Free Dinner @ Chef Allen's Seafood Grill
There is no free lunch... (that is because we do not serve lunch)
But we are giving away Dinner For TWO.
The dinner for two includes a three-course dinner with wines selected to match each course. The drawing will be held on September 30th, at our Wine Down Wednesday event! Come and enjoy the event and maybe you will be the lucky winner. If you are not present at the time the winner will be notified by email.
Miami Spice Menu is Available Throughout September
Our menu changes nightly with fresh ideas and bold flavors.
For tonight's featured Miami Spice menu call us at 305 935 2900.
Our Sample Miami Spice Menu
Blue Crab Cake
Tropical Fruit Chutney, Crispy Panko
Or
Mixto Ceviche
Mahimahi, Conch, Shrimp, Cilantro-Lime Sorbet
Or
Crisp Romaine Hearts
Creamy Caesar, Garlic, Lemon
Reisling, Loimer, Austria, '07

**** **** **** **** **** **** ****

Pan Roasted Local Swordfish
Chorizo, Spaetzle, Arugula, Broken Sherry Vinaigrette
Or
Wood Fired Steak Frites
Flat Iron Steak, French Fries, Garlic Aioli
Or
Whole Roasted Cornish Hen
Chili Baked Sweet Potatoes, Mango Chutney
Albariño, Legado del Condo, Spain, '07
or
Syrah, Summerland, Paso Robles, '06

**** **** **** **** **** **** ****

Bittersweet Chocolate and Cherry Napoleon
Chocolate Custard, Triple Cherry Compote
Or
Tropical Fruit Cobbler
Sweet Corn Ice Cream
Moscato D'Asti, Scrapona, Italy, '05

**** **** **** **** **** **** ****

$35 per Guest
Paired with Three Wines Add $25

We do change the menu frequently depending on the market inspiration
Call 305-935-2900 or click here to make a reservation.
Wine Down Wednesday
Mark you calendar to be here on Wednesdays to explore our wine list. Every Wednesday, every bottle is 1/2 off!
On the last Wednesday of the month, September 30th we will have a wine tasting along with complimentary finger foods from 6:00 – 7:00, each evening we offer a delicious wine paired menu.
Call 305-935-2900 or click here to make a reservation.
Summer of Spice Free Cooking Classes
Every Friday throughout September
5:30-6:30 p.m.

$35 Miami Spice Three-Course Dinner Menu

It's going to be a spicy summer as Chef Allen Susser brings all of the worlds best spices to the table during this year's Miami Spice Restaurant Month 2009. Every Friday throughout September Chef Allen will present a cooking demonstration using a specially prepared blend of spices from a specific region. Guests will have a chance to learn about the origin of the spices, how to cook with the spices at home, and what wines will perfectly complement each blend's unique flavors. Each guest will receive a sample of the dish, and a sample of a wine perfectly paired with the spice. After class stay for dinner and enjoy the Miami Spice pre-fixed menu for $35 per person.

Schedule & Recipes


| | |
| --- | --- |
| North African: September 4 | South East Asian: September 11 |
| Pan Asian: September 18 | Miami Spice: September 25 |

The Miami Spice menu is available everyday throughout September.
Please call to make a reservation today!
Chef Allen's Welcomes you to Rosh Hashanah
L'Shana Tova!
September 18th & 19th, 2009
$56.00 per guest

The Jewish Holiday of Rosh Hashanah is widely known and celebrated as the New Years Day of the Jewish calendar. On Rosh Hashanah it is customary for families to gather together for the holiday meal. Traditional foods sweetened with honey, apples and carrots are served, symbolizing sweetness, blessings, abundance and the hope for a sweet year ahead. L'Shana Tova!



Potato and Boniato Pancakes
Smoked Salmon, Applejack Beurre Blanc

or

Goat Cheese and Spinach Blintz
Yellow Tomato Coulis

or

Warm Wild Mushrooms
Kasha, Arugula, Orange Salad

***

Carrot Lime Intermezzo

****

Sephardic Spice Roasted Chicken
Lemon Couscous, Caramelized Fennel and Carrots

or

Tamarind Roasted Beef Short Rib
Tiny Green Beans, Black Pepper Organic Grits, Aromatic Red Wine Reduction

***

Mango, Banana and Pistachio Strudel
Black Walnut Ice Cream

or

Chocolate Cream Puffs
Spiced Hot Cocoa Soup


Click Here To Make A Reservation

Benefit Dinner at Chef Allen's to
End Childhood Hunger
September 15th, 2009
Pass Around



Saffron Arroncini with Tomato Jam
Wild Florida Shrimp Escabiche
Red Snapper Ceviche
Blue Crab Cake

Mumm Napa Brut Rose



Dinner Menu



Rock Shrimp Mac and Cheese
Shiitakes, Tarragon, Homemade Macaroni

2007 Rodney Strong Sauvignon Blanc

Pinot Noir Steak Salad
Green Papaya, Crunchy Cucumbers, Macadamia Nuts

2005 Davis Bynum Pinot Noir

Wood Grilled Za'atar Rack of Lamb
Arugula Spaetzel, Chorizo, Red Reduction

2004 Markham Petite Sirah

Chocolate Cream Puffs
Chocolate Dried Cherry Ice cream

2005 Cosentino "the Poet"

$125 per guest inclusive
Recipe of the Month
Wild Florida Garlicky Guava Shrimp
Ingredients to Serve-4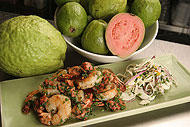 ¼ Cup Extra virgin olive oil
4 cloves Garlic, minced
1 teaspoon Dried red chili flakes
¼ Cup Minced flat leaf parsley
1 pound Wild Florida jumbo shrimp, shelled and deveined
1 Large Guava, peeled and diced
1 Teaspoon Kosher salt
1 Teaspoon Spiced rum
To Prepare the shrimp:
In a heavy deep skillet, heat the olive oil over medium high heat until shimmering. Add the garlic, chilies, and parsley and cook over moderate heat for 10 seconds. Stir in the shrimp, raising the heat to high and cook for 3-4 minutes until shrimp curl and turn rosey pink. Add in diced guava and season with salt. Finish with a splash of rum.