Chef Allen's August 2009 Newsletter
Miami Spice Preview!
$35 Menu Begins Today
We are all waiting for the beginning of Miami Spice scheduled for August 1. But why wait – it is like Christmas in July – We are excited to featuring our Miami Spice Menu starting today for $35, and will run our 3 course prix fix menu daily, changing options- through Miami Spice month in August. We are very happy to share a sample with you.
Our Sample Miami Spice Menu
Blue Crab Cake
Tropical Fruit Chutney, Crispy Panko

Or

Mixto Ceviche
Mahimahi, Conch, Shrimp, Cilantro-Lime Sorbet

Or

Crisp Romaine Hearts
Creamy Caesar, Garlic, Lemon

Reisling, Loimer, Austria, '07

**** **** **** **** **** **** ****

Pan Roasted Local Swordfish
Chorizo, Spaetzle, Arugula, Broken Sherry Vinaigrette

Or

Wood Fired Steak Frites
Flat Iron Steak, French Fries, Garlic Aioli

Or

Whole Roasted Cornish Hen
Chili Baked Sweet Potatoes, Mango Chutney

Albariño, Legado del Condo, Spain, '07
or
Syrah, Summerland, Paso Robles, '06

**** **** **** **** **** **** ****

Bittersweet Chocolate and Cherry Napoleon
Chocolate Custard, Triple Cherry Compote

Or

Tropical Fruit Cobbler
Sweet Corn Ice Cream

Moscato D'Asti, Scrapona, Italy, '05

**** **** **** **** **** **** ****

$35 per Guest
Paired with Three Wines Add $25

We do change the menu frequently depending on the market inspiration
Call 305-935-2900 or click here to make a reservation.
Summer of Spice Free Cooking Classes
Every Friday during August and September
5:30-6:30 p.m.

$35 Miami Spice Three-Course Dinner Menu

It's going to be a spicy summer as Chef Allen Susser brings all of the worlds best spices to the table during this year's Miami Spice Restaurant Month 2009. Every Friday during August and September Chef Allen will present a cooking demonstration using a specially prepared blend of spices from a specific region. Guests will have a chance to learn about the origin of the spices, how to cook with the spices at home, and what wines will perfectly complement each blend's unique flavors. Each guest will receive a sample of the dish, and a sample of a wine perfectly paired with the spice. After class stay for dinner and enjoy the Miami Spice pre-fixed menu for $35 per person.

Schedule & Recipes


| | |
| --- | --- |
| Latin Spice: August 7 | Caribbean Spice: August 14 |
| Mediterranean Spice: August 21 | Indian Spice: August 28 |
| North African: September 4 | South East Asian: September 11 |
| Pan Asian: September 18 | Miami Spice: September 25 |

The Miami Spice menu is available everyday through August & September.
Please call to make a reservation today!
Wild About Cooking Classes
Chef Allen has cooked many wonderful birthday dinners for Julia Child. This being Julia's Birthday month we going wild with cooking classes by offering 2 different types of cooking classes. Julia also shared many diners with Chef Allen and Judi, as they became good friends. They shared a passion for food, and a love for exchanging their culinary knowledge with others. In fact both Julia and Allen attended the Cordon Bleu in Paris (in different semesters).
Tuesdays Hands On Cooking Class:
These are taught in the kitchen and limited to 8 guests. The cost is only $25 per guest. Each day the creations are inspired by the daily market basket. We will explore one of Julia's recipes, as well as share our own. Classes begin each Tuesday at 5:30, payment in advance is required.
Fridays Free Interactive Cooking Class:
Julia loved Miami and would have just loved these classes. This month we are featuring Miami Spice inspired recipes. Classes are interactive with tastes along with complimentary wine tastings. Classes begin each Friday at 5:30. Registration in advance is required.
Wine Down Wednesday
Mark you calendar to be here on Wednesdays to explore our wine list. Every Wednesday, every bottle is 1/2 off!
On the last Wednesday of the month, August 26th we will have a wine tasting along with complimentary finger foods from 6:00 – 7:00, each evening we offer a delicious wine paired menu.
Call 305-935-2900 or click here to make a reservation.
Recipe of the Month
Pan Roasted Yellowtail Snapper
Ingredients to Serve-4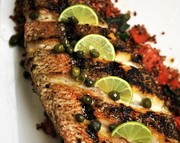 2 1 ½ pound Whole Yellowtail Snapper
4 sprigs fresh mint
4 sprigs fresh fennel branch
4 sprigs fresh thyme
1 whole lemon, thinly sliced
2 cloves garlic, chopped
1 teaspoon sea salt
½ teaspoon freshly ground black pepper
4 tablespoons extra virgin olive oil
½ cup freshly brewed hot green tea
1 large pinch saffron
To prepare the Yellowtail snapper: To begin gut, scale and wash the yellowtails. Trim the fins and tail. Using a very sharp knife, cut across the fish: four deep slashes about 2 inches apart- into the skin through the flesh just to the bone. Repeat the cuts on both sides of each fish.
To season the prepared fish: Separate half of the herbs and the sprigs. Stuff these into the belly cavity of both fish along with 3-4 slices of lemon. Clean the remaining herbs and roughly chop. Set aside in a small bowl. Mix herbs with the garlic, salt, pepper and 2 tablespoons of the oil. Generously season the yellowtail, including the flesh cuts.
To Pan roast the Yellowtail: Preheat the oven to 375 degrees. On the stovetop, heat a large ovenproof skillet with the remaining olive oil. Place the yellowtail into the pan and cook over medium high heat for 2 minutes until well browned. With a large spatula turn the fish and cook the other side for 2 minutes. Place the whole pan in the oven to finish cooking the yellowtail for about 4-5 minutes. The fish can be checked for doneness by checking for a soft flake of the fish in the seasoning slashes.
To finish the Yellowtail: Stir the saffron into the freshly brewed green tea. Add the remainder of the lemon into the fish skillet and pour the saffron tea into the pan to steam and deglaze the pan. Serve the yellowtail with the herbs, lemon, and pan juices.